In preparation for sharing some exciting news, it was about time that I updated my About Me page!
First up: the dreaded author photo! It took several tries to get a photo I could use.  My friend Emma and I shoot weddings together all summer long, and we kept trying to fit it in, some time during a wedding.  There are shots of me among hundreds of candles, and shots in breweries, and shots with weird silver lights.  Every time we took them we both ended up saying, "this doesn't feel quite right." Finally I dragged my husband outside, and made him pose until I got the lighting and background just right, and then we switched places and got the shot. And then we did it a few more times, in a few different places. Here's what we ended up with:
And then: the bio.  How do you compress your entire life and motivation into one interesting and hopefully funny paragraph? I spent several weeks and wrote several bios. Or, I tried to write bios.  Mostly they ended up sounding like manifestos, or lists of things that I like, or how I define various nebulous concepts.  Again, everything I ended up with didn't feel quite right.  Finally, I sat down and imagined the places my bio might go, and suddenly it fell into place.  (For now, at least!)
Along the way, I consulted Jonathon Auxier's very helpful blog post series, After the Book Deal. I'm not sure I was able to take advantage of all his wisdom, but it certainly helped me out immensely.  Here's a link to the Do I Really Need a Headshot page:
Jonathan Auxier: "After the Book Deal – Do I Really Need a Headshot?"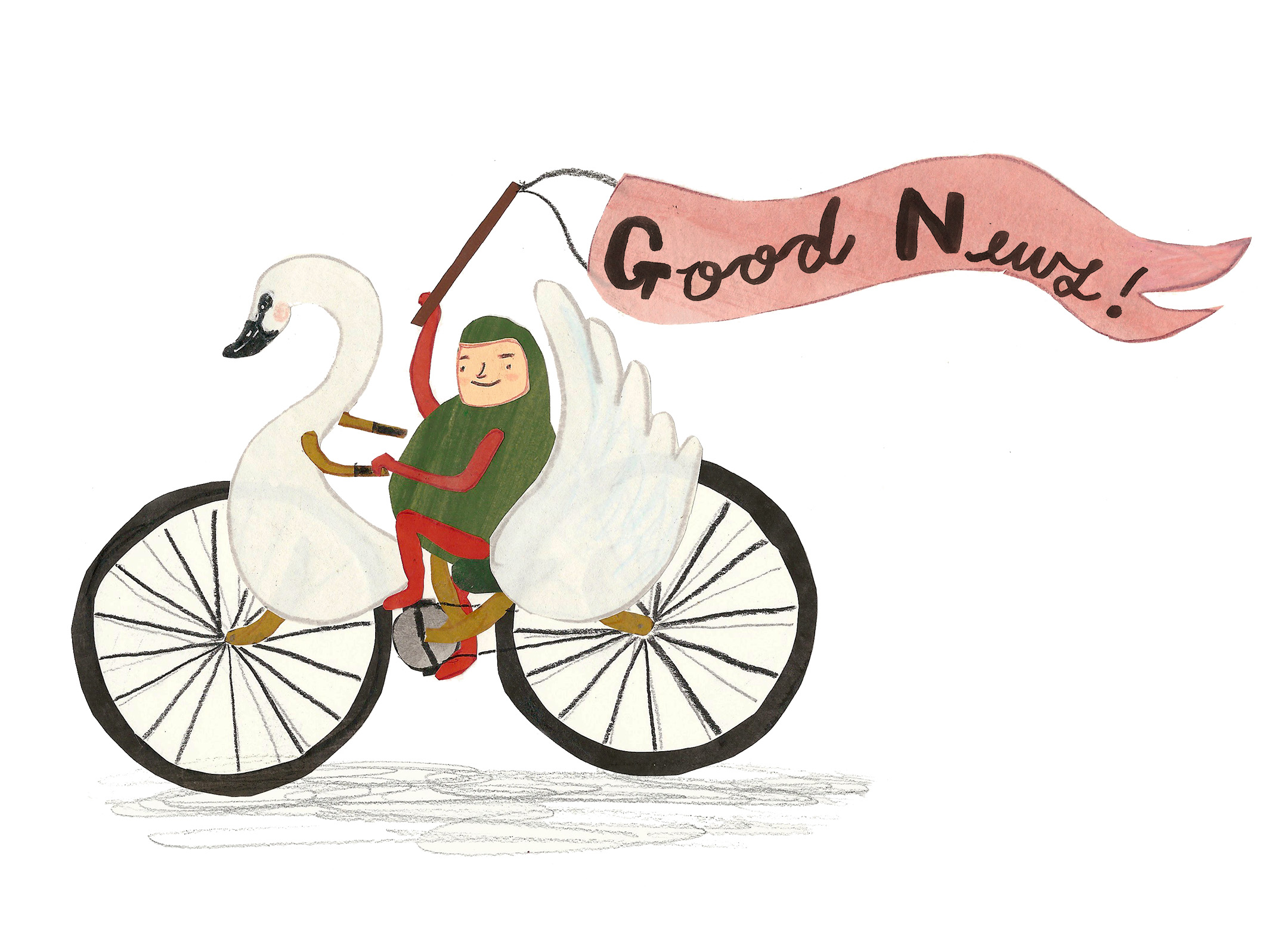 I had a visit from the Good New Fairies today, and am excited to be able to announce that I received multiple offers of representation on my latest manuscript, and after careful consideration, I am now represented by Jackie Kaiser at Westwood Creative Artists! Jackie also represents some of my favourite picture book authors like Sara O'Leary and Kyo Maclear, not to mention a whole host of other incredible authors and illustrators. You can see them all, here: http://www.wcaltd.com/jackie-kaiser/
I am so looking forward to working with Jackie and the rest of the Westwood team!
Thank you to everyone who has helped me along the way. Special thank yous to Lori Richmond and Sara O'Leary for all their help and encouragement.  It sure took me a village to get this far.
Also, I couldn't resist sitting down today and making a plethora of Good News Fairies to celebrate with.  I just love the idea of little fairies on highly customized bicycles, zooming around and bringing joy to everyone they touch.  Hopefully they bring a smile to you, too!
(Plus, now I am seriously considering how to turn my bicycle into a fabulous swan bike, because I think I may need that in my life.)
For the first time, this year I participated in Inktober – an annual challenge for artists to do a daily ink drawing. No erasing.
I used a list of witchy word prompts designed by Julianna Swaney (you can see her beautiful work here: http://www.juliannaswaney.com) to help me generate ideas.  Also, I decided to do all my illustrations of the same character and her world. I set myself a time limit for most days – trying to keep it around 20 minutes. Some days I made bigger illustrations that took a little longer.  All of the pictures were done with a dip pen and black waterproof ink in a Moleskine journal, and then colour was added with watercolour paint.
I popped several of them together to share here (above and below). Participating in Inktober was such a joy that I expect I will be doing it again next year.  Also, I had so much fun playing with this technique that you'll be seeing some new portfolio pieces here soon!
You can also see short interviews of all the SCBWI Canada East members who participated here: http://thechildrensillustratorstudio.blogspot.ca