Hello again!
Tara Luebbe from BeckyTara Books asked if I would do a follow-up post for them about my experience as a Writing With the Stars Mentoree (Mentee? Hmmmm…)
So I did!
Here's the link, for those who are interested in what Lori and I got up to!
Enjoy!
Illustrators are often told that postcards are one of the best promotional tools available to us.  Editors and Art Directors at publishing houses will save their favourites, and refer back to them when looking for illustrators, and so the hope is that your postcard will be pin-worthy! (The rumour is that they will pin them on the wall if they like them!)
With Lori Richmond's fabulous guidance, I wanted to prepare and send out my first set of postcards, but it seemed like a lot of pressure to put on ONE image! (well, two images, actually – since the back needs to tie in nicely to the front – story-wise). I sketched and sketched and sketched. I wanted to show that I could do kids, and animals, interaction and environments. And I wanted to tell a story. I chose four thumbnails to draw up into bigger sketches, and submitted them to Lori for an educated opinion…
She thought #2 was the strongest – it had the most storytelling to it – but then wondered if I really wanted to do more gnomes?  (You may have noticed I have a predilection for gnomes!) With visions of becoming the "gnome girl" I went back to the drawing board.  The swan princess wasn't quite right, and neither were the mermaids.  And, while I wasn't quite to the point of tearing my hair out… I wasn't that far away, either!
On the bright side, I was coming up with all kinds of new portfolio pieces.  But still no perfect postcard.  I studied the postcard posts on Sub it Club (https://subitclub.com/postcard-post-archive/) and pored over Pinterest looking at other illustrator's promotional materials. While on Pinterest, I got sidetracked by looking at cute animals (a not uncommon occurrence), and that's when it hit me. I could replace the gnomes with a cute animal! From there, it was a short journey to what I ended up with.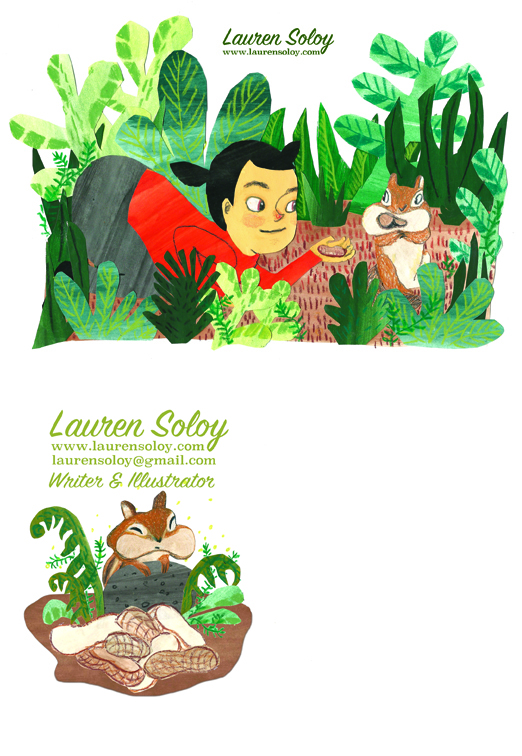 So I sent my files off to the printer (I used vistaprint.ca), and, while I waited, got to work on compiling a list of names and addresses.  Once they arrived, I spent several nights, watching tv with my husband, and addressing postcards, and then a couple of afternoons adding the stamps.  I may have gone a little overboard with the stamps!
And then, with a kiss and a prayer, I sent them off into the World.  And… I'm already thinking about the next one (you're supposed to do 3 or 4 of these per year!) I can already tell it will be far less painful the next time.  Part of the pain was just fear – plain and simple.  I'm so glad and grateful that I had Lori's encouragement to help me through the process.  And now I have a backlog of pages and pages of sketches to draw from if I ever feel at a loss for something to do (hasn't happened yet, but I like to be prepared!)
Hopefully a couple of them will have little pinholes in them in the not-too-distant future!
I just made this new header for the website, and to go along the tops of my query letters, and I thought it might be fun to share some of the process that went into it! First, here is the finished header, full size:
I knew that I wanted something that would tie into the image that I am using for my postcards, and for the front page of the site, but I also wanted something that would represent me more generally as well.  First step: research! This is always a fun part for me, and I spent a happy afternoon touring around to see what some of my favourite illustrators have done for their sites.  I pasted them all into a word document so I could look at them together.  Here's a little taste:

Aren't they gorgeous? Six such pages of headers later (I was having a lot of fun doing "research"!) I felt like I had a pretty good idea of what was out there.  I'm not sure if this is a necessary step, but I definitely felt more prepared by the time I had collected and studied what more knowledgable people had done before me.  I decided I wanted some foliage, done in my collage style, so I made up a page of leaves:
I also really liked the look of the hand-done fonts, so I made up (can you guess what is coming?) about six pages of my name, in different materials and fonts.  I knew pretty quickly that I liked the look of the ink brush pen, so then it was a matter of doing it over and over until it looked right.  It was rather meditative, although I did do some of it curled up on the couch with my husband, watching tv after the kids were in bed.  There's not much need to write your name over and over on a piece of paper once you are out of high school, and I felt like a teenager figuring out what my signature should look like again. (Not that my teenage signature bears much resemblance to what it has become!)
Then it was just a matter of sticking it all together, and playing with it in Photoshop until it looked just right. Afterwards I couldn't resist dropping it into my research file to see if it fit in with the others, which, I think, it did!
And, because who could resist, here's another page of amazing illustration headers, for your viewing pleasure!